Shop our best sellers
FEATURED COLLECTION
New in Store
FEATURED COLLECTION
Behind the scenes...
---
'Serein', a sense of serenity… I painted SEREIN in Morocco during my latest artistic retreat. It has been painted with a soft pencil on antique paper.  I love to make sketches...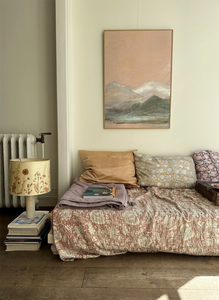 3 ideas for a new sense of colour.  The spring season is always full of energy and life. The fresh colours in nature and the warmer weather put us in...
3 tips for an artistic bedroom. Welcome to the bedroom of your dreams! A SPAce where you can unwind and recover from your daily stress. But how can you ensure...
My tiny world on paper
Welcome to the tiny stories of my life, my tiny world on paper...
My paintings and illustrations are hand drawn and I love to combine different techniques and materials such as ink, gouache & acrylic on old paper, sunbleached linen and vintage bookpaper.
I am really passionate about my work and so happy that my dream to share my paintings and llustrations has come true. Today I can proudly say that my work has been displayed worldwide, in private collections as well as been used by interior, fashion & jewelry brands and media.
I hope you enjoy the tiny stories and find your own in one of my paintings.
X Tiny de Vries
TINYSTORIES X GIFT CARD
Artful gifting – give away art and let your loved ones choose.
Are you looking for a last-minute gift or just having trouble deciding? Then a gift card from tinystories is a wonderful solution for you.
From puristic to romantic, delicate to strong; in my little online shop you will find the right artwork with a personal touch for every gift taste. Art cards, art prints, large-format wall hangings and handmade frames are personally curated by me. Friends, family and colleagues can thus browse through my artworks and choose their favourites.
The original paintings and collages are all handmade by me; painted on vintage paper, old book covers, antique linen or handmade paper. The art prints are printed locally on eco-friendly paper and they all have something in common:
I put my heart, love and soul into them. That's why they are all a little bit magical.
xTiny
TINYSTORIES X GIFT CARD
Become a tinystories dealer
Besides our webshop, we also offer B2B clients to become a reseller.
Please apply here for a wholesale account.
Wholesale, collaborations & media
Tell my story: We love to collaborate and create more tinystories. Are you a retailer and want to become a tinystories stockist? Please apply here for a wholesale account . If you are interested in borrowing my art prints for a commercial shoot or media coverage please send me an email at press@tinystories.nl.
All of our products are final sale and non-returnable after 14 days.